TOP TRADE PRINT
PAD- SCREEN- EMBROIDERY- DIGITAL- TRANSFER
FOR EMERGENCY PRINT!!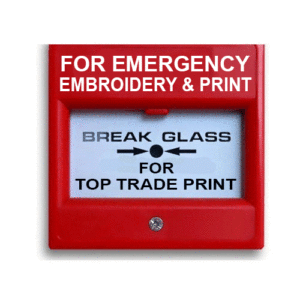 TEL. 01246 807297
EMAIL. SALES@TOPTRADEPRINT.CO.UK
 Top Trade Print
Located in Chesterfield, we specialise in printing or embroidering your products on time and delivered to your customer. YES we are still at work, still printing and can still fit you in.
Great Prices, Great Service with a smile 🙂
Time to dust of those event plans and start marketing again.
If your customers need print slots in the future , now is the time to book them.
Maybe try ordering online, with the website www.toptradeprint.co.uk.
Hopefully this is make life easier!
Want timed delivery on embroidery.

Copyright © 2021 Top Trade Print, All rights reserved.
You are receiving this email because you opted in via our website.Our mailing address is:Top Trade Print11 Stone LaneNew Whittington

Chesterfield, DerbyshireS43 2DG

United Kingdom

Want to change how you receive these emails?
You can update your preferences or unsubscribe from this list.